Eufy eufyCam 2C Pro Wireless Home Security System 2K Outdoor Battery Camera IP67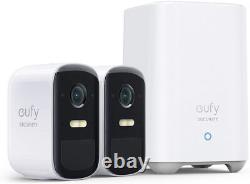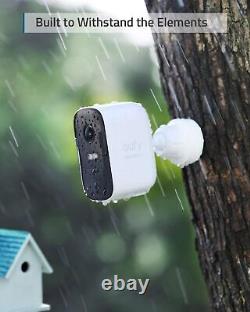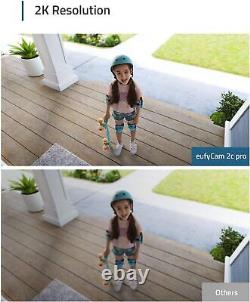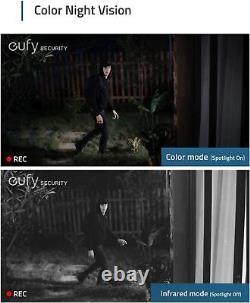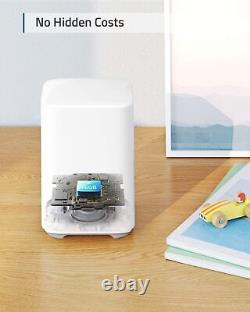 Protects You, Your Family, and Your Privacy Every eufy Security product is engineered to ensure your security data is kept private. Have peace of mind that you will have a secure record of everything that happens around your home. 100% Wire-Free Without cords or wires of any kind, eufyCam 2C Pro installs indoors and out with ease to surveil your home for 180 days on a single charge. You will never be forced into paying to access your security footage. FAQ Can I expand the storage?
Eufy Security will soon be launching a USB storage dongle that will allow you to expand the storage. What is the eufyCam 2C Pro system compatible with? The eufyCam 2C Pro uses HomeBase 2 as its hub. It is compatible with eufyCam, eufyCam E, and eufy entry sensors. What is the battery life and capacity?
From a single 5 hour charge receive 180 days of battery life. The battery capacity is 6700mAh. Is there a mounting stand? 2 screw mounts are included. Get a clearer, brighter view of the people in-shot.
Built-in AI technology identifies and focuses on humans. The built-in spotlight illuminates the surrounding area and allows you to see the whole picture in color clarity, even in low-light. Human detection reduces the number of false alerts you receive. EufyCam 2C intelligently differentiates humans from objects.
Customize the areas in which the camera will detect motion. Set the zone to suit your home so you only receive the alerts you care about. Securely store up to 3 months of recordings via the 16GB eMMC. AES-128 data encryption ensures your footage is kept private on transmission and storage. Speak directly to anyone who approaches your home via two-way audio.
Connect your devices to Amazon Alexa for complete control over your surveillance. We take care of all quality-related issues witha REPLACEMENT. Reminder: Be sure to use your product as directed. Free user support Not sure how to get your Anker product to work properly Contact our world-class, friendly support team for quick solutions. Unauthorized reselling of Anker products is prohibited. Further delay may void your return. When contacting us for help, be sure to have your Anker product handy fortroubleshooting!
Ll be sure to update this page. Traditional accessories market has been all about price.
That is, cheaper, cheaperand even cheaper.. At Anker we take a different approach to the market. We do not play the cheapestgame. Instead, we partner with top-notch manufacturers, use best parts, performstringent quality control, all to deliver real long-lasting products to ourcustomers, while still at a great price. On top of the high quality, we also stand behind our products to provide greatservice.
Our products may fail 1 in 1000, but our service will not. All together, westrive to provide the best products and an amazing online shopping experience toevery customer.