License Plate Camera Day-Night Zoom Security Capture Wide Dynamic Range 5-100mm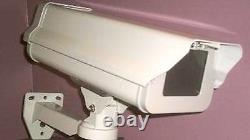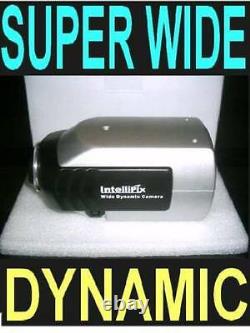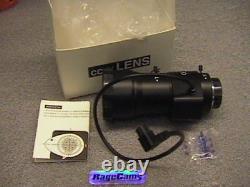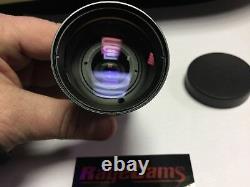 Pal & ntsc switchable in the menu. FULL KIT READY TO CONNECT TO YOUR DVR RECORDER. 1- OUTDOOR HOUSING WITH METAL BRACKET 1 IPX520DN BOX CAMERA 1-5-100MM DC IRIS LENS 1- 100FT CABLE PLUG AND PLAY BNC VIDEO AND 2.1MM X 5.5MM POWER 1- 500MA POWER SUPPLY USED FOR CLOSE UP VIEWS ON IMPORTANT TARGET AREAS! DONT BE FOOLED BY INFRARED CAMERAS CLAIMING TO GET PLATE #'S ESPECIALLY IF THEY ONLY USE A 16MM LENS OR LOWER. WHEN YOU USE OUR CAMERA SET UP CORRECTLY IT WORKS AMAZINGLY IN ANY LIGHTING THAT ALLOWS THE PLATE TO BE CAPTURED, & WITH THE 5-120MM LENS.
YOU CAN GET PLATE #'S FROM UP TO 200FT AWAY WHEN ZOOMED IN CORRECTLY AT THE TARGET AREA WHERE THE VEHICLE WOULD HAVE TO STOP OR VERY SLOWLY ROLL THROUGH A STOP SIGN. If you are targeting an area where the vehicle is moving very fast, then you would have to use one of our higher cost kits that will do the job perfectly found here. NEW DUAL VOLTAGE 12V DC -24V AC IPX-520-DN SUPER WIDE DYNAMIC COLOR CAMERA by INTELLIPIX! This camera adopts innovative SONY DPS (Digital Pixel System) wide dynamic range image sensor and image processing technology.
The DPS system uses the individual ADCs in each pixel. This pixel level ADC architecture permits the use of many higher parallels, so it can achieve a wider dynamic range than CCD and CMOS cameras and provide a better image when there is a sharp contrast in lighting conditions.
The IntelliPIX system utilizes a revolutionary and proven solution to overcome many of the problems that plague today's CCD cameras. This patented technology is known as DPS.
With DPS, every pixel is a camera. Every pixel essentially has its own shutter to control the variations of light reaching the imager, resulting in a picture with super wide dynamic range.
Shadowing, vertical smear, and high intensity light issues are no longer a barrier to quality, high resolution video capture. CCTV security cameras have many obstacles to overcome to provide accurate, high resolution images, the first and foremost being LIGHT.
How sensors react to varying lighting conditions can be the difference between capturing the suspect or being left with just a shadow. DPS imaging sensors are replacing CCD, as CCD has replaced CMOS.
IntelliPIX line of DPS cameras not only provide a super wide dynamic range for all lighting scenes, but also provide accurate color reproduction and white balance that has never been possible with the limitations of CMOS and CCD sensors. Leverage the power and versatility of DPS and advance to the next generation of CCTV. Adopts 1/3 DPS (Digital Pixel System) wide dynamic range sensor. Horizontal resolution of 520 TVL. Day/Night mode switch, color mode: 0.5LUX/F1.2, low light mode 0.08LUX/F1.2 "Slow shutter", with IR cut filter removal.
IF YOU HAVE ANY QUESTIONS, PLEASE ASK BEFORE PURCHASING OK! WE TAKE PRIDE IN OUR WORK & TEST ALL EQUIPMENT FOR COMPATIBILITY, & STABILITY SO YOU WILL GET A WORKING PRODUCT FROM US, & NOT HAVE TO SEND IT BACK. OR IF THEY ARE STILL IN BUSINESS, THEY WILL PAWN YOU OFF TO A 2ND PARTY DROP SHIPPER WHO KNOWS NOTHING ABOUT THIS TYPE OF ELECTRONICS, & THEY WILL TELL YOU TO TAKE IT TO A LOCAL ELECTRONICS STORE FOR REPAIR BRUSHING YOU OFF. I HAVE HEARD MANY STORIES FROM MY CURRENT CUSTOMERS WHO HAVE EXPERIENCED THIS LACK OF CUSTOMER SERVICE FROM ALL THE JUNK DEALERS OUT THERE!
IT SHOWS THAT WE ARE HERE TO STAY! BRAND NEW WITH 5-100MM LENS DC AUTO IRIS LENS, 500MA POWER SUPPLY, & PAN TILT MOUNTING BRACKET. THIS CAMERA PERFORMS GREAT IN LOW LIGHT, & WILL NOT GET GRAINY. WITH 0 NOISE IN THE VIDEO & DISTORTION. FULL 1/3 SONY CCD SENSOR WITH NO VIDEO NOISE IN LOW LIGHT. Video Surveillance Car License Plate Reading Box Camera. 5 AMP Digital Switching Power Supply Transformer Included free!
BRAND NEW IN THE BOX. NEED ADVICE ON A GOOD CCTV CAMERA OR DVR?
MADE OF HARDENED METAL CONSTRUCTION WITH LOCKING LATCHES! 5-100mm cs mount camera lens f 1.6 dc auto iris 4 pin plug. HIGH GRADE GLASS NOT CHEAP HONG KONG CRAP!
Find your target area & capture video detail CLOSE UP like never before. Semi-Wide to Super Narrow Detailed Video Recognition of objects up to 200ft away. Also included free is a metal housing for outdoor use, screws, & metal bracket for Indoor(on the cam only), or for Outdoor use. When zoomed out to a full 100mm zoom+Finely Focused, you can aim the camera at the hot spot, & get License Plate #'s GUARANTEED Day, & Night/Low Light which is very helpful in prosecution cases, or determining who broke the law. These days you have to make the case for the police, & be your own detective if you want real results.
We are experts in the customized field of CCTV Cameras & Digital Surveillance, & have a reliable honest solution for any need! Just a wide angle camera will not do anything for identification or hold up in court unless you have the plate# of the vehicle that was involved, Or a super close up on a heavy traffic targeted area where the guilty party would most likely pass by. Super wide angles are nice for seeing what happened, but you should have as many zoom cameras as needed to acheive detailed video on all the exits for plates, & all the hot spots. I personally install this same camera all over Michigan, & they will get the results you need! This Brand New Manual Zoom DC IRIS CCTV Weatherproof Cam+Housing Deal is Dynamite.
We carry the widest selection of custom surveillance cams available with pro knowledge & tech support of what you will need to have an effective set up for your video application. The item "License Plate Camera Day-Night Zoom Security Capture Wide Dynamic Range 5-100mm" is in sale since Monday, September 28, 2009. This item is in the category "Consumer Electronics\Surveillance & Smart Home Electronics\Home Surveillance\Security Cameras". The seller is "dennis6z7a" and is located in Comstock Park, Michigan. This item can be shipped worldwide.
Model: rc5120ipxlpr
Country/Region of Manufacture: China
Type: Box/Body
MPN: rc-5120ipxlpr
Brand: RageCams intellipix