Solar Battery Powered Wireless WiFi Outdoor Pan/Tilt Home Security Camera System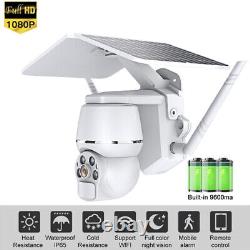 The WiFi version of the camera cannot be plugged into the card and can only connect to WiFi and does not have 4G function. WIFI camera needs to connect to wifi network and can only be installed next to the router. Only work with WI-FI connect, Not support 4G. The outdoor wireless solar battery security camera powered by rechargeable batteries and solar panel, low consumption and easy installation.
355°horizontal & 90°vertically rotation range & 120° viewing angel provides a complete 360° Panoramic viewing. Enjoy 1080P full HD image and video day and night. Solar security camera also supports night vision, PIR motion detection and two-way audio. Rechargeable Batteries Powered & Solar Panel Powered: Securtiy camera powered by Rechargeable batteries and solar panel. It takes 8 hours to charge the Battery to 99% fully charged through the high energy conversion rate 3.2w monocrystalline silicon solar panel in sufficient sunlight 2.
Enjoy 1080P full HD image and video, Built in 2pcs IR LED and 4pcs white LED, night vision up to 50m/164ft. When security camera detects motion, the white LED will light up and the night vision from black and white IR mode to full-color mode, show the color video 3. Wireless solar camera with 355° horizontal & 90° vertically rotation range&120°viewing angel provides a complete 360° viewing angle. Smart PIR human detection technology reduces the false alert.
Built-in microphone and speaker can provide a real-time conversation, easy to talk with your baby, pet and family. With noise reduction technology, sound quality is clearer. Image Sensor Compression format:H. Full color night vision:Illumination 0.00001LUX Infrared light:Infrared LED distance 164ft.
White light:White LED distance 164ft Built-in speaker:3W Built-in microphone:Monitoring range 10M focal length:3.6mm Viewing Angle:120 ° Cloud storage:Cloud storage (alarm recording). Local storage:TF card up to 128G. Power supply mode:Solar + battery. (Support 6pcs 18650 battery, Battery Included). Solar battery power:8W Standby power:0.003W Working environment:Indoor / outdoor Waterproof:IP66 Operating temperature:-30 ° + 60 ° Working humidity:0% 90% RH Package size:290200170 mm Package weight:1830g.
Power Adapter: DC 5V/2A Image Sensor: 1/3 CMOS Sensor Lens: 4mm Resolution: 1080P Field of View: 120° Wide angle IR-CUT filter: Switch automatically Night Vision: IR Light / Colorful Minimum illumination: 4500mV/Lux-s Infrared Distance:20-30m Two-way Audio: Supported Connection way: 2.4G WiFi & 4G Sim-card Wireless Standard: 2.4GHz, 802. 11b/g/n(5G is not supported) Storage: Cloud storage(extra charge) / SD Card(optional) Color: Grey Power Consumption. 1 Solar Camera (Built in 2pcs battery) 1 Solar Panel 1 3m extension cable 1 Set of Screw 1 User Manual.
Note: the camera only support wifi, it can not support 4G! It provides 350° horizontal and 120° vertical rotation viewing range and 4X digital zoom to achieve almost 360° panoramic viewing, covers every corner of your place. Built-in microphone and speaker, you can use it in outdoor to communicate smoothly and clearly with people who near the camera through the APP and scare away the intruders when you are outside. You will receive alerts notification directly on your IOS/Android device from the APP once motion is detected, PIR motion detection can provide more sensitive detect and avoid false alarm like passerby on the street or moving leaves in the yard. IP66 excellent waterproof and dustproof function is the good choice for outdoor use, use high-quality ABS materials to ensure safe use in the temperature range of -20? Whether it's rain or shine, it's tough enough to stand up bad weather. Built-in Battery and Solar Charging Power Supply. Extensible 9600mAh rechargeable battery with solar panel gives you a reliable and powerful wireless security camera system. Capturing relatively clearer and smoother videos and picture than 720P security cameras. Support multi-user sharing and visit at the same time. Just follow the step by step instructions to install it and via the free app "i-Cam+" to connect and use it easily. SD card and Cloud storage are both available and optional, it will auto recorded the movement video. If there is not movement, the camera will auto entry into the sleeping statu. The soalr panel can be installed separately from the camera with 3m extension cable.
Bicycle and motorcycle riding, outdoor extreme sports skydiving and jumping on the helmet, aerial camera, driving recorder, shop monitoring, warehouse video, real-time babysitting of the elderly (using mobile phones to remotely check the status of children and elderly at home when not at home) family living room room Monitoring, corridor monitoring, home door monitoring, office, travel, conference, classroom, pet care, can be magnetically attached to refrigerators, warehouse iron shelves, and other iron products. Distributed 360 rotating magnetic bracket, no need to punch, no need to weld, plug and play, support 1/4 threaded interface, with lanyard port. Product Configuration: Built-in battery, speaker, microphone, WiFi.
Auto Tracking: This solar-powered camera uses a high sensitivity sensor, if someone invades your home, the camera will automatically track the movements and record every movement. Waterproof and Dustproof: With IP67 waterproof performance, it can be used normally even in bad weather, both rainproof and dustproof. Voice function: The solar camera comes with a speaker and a microphone, you can also chat and watch while watching the video, conversation at any time. Rotating Pan Tilt: The camera has 355-degree horizontal rotation and 90-degree vertical rotation, wide coverage with the ability to monitor every corner from every angle.
Induction Alarm: The solar camera has a built-in PIR human sensor, 120-degree ultra-wide angle induction, strong anti-interference, less false alarm rate, and the sensing distance can reach 8 meters. Super Battery Life: The solar camera has its own battery, which can be powered by the solar panel and recharge the battery, and it can continuously supply power for 365 days in dual mode. Infrared night vision distance: 30m. Storage method: TF card and cloud storage.
Product size: 302221cm/11.88.78.3inch. Solar panel size: 1824.5cm/7.19.6inch.
Camera size: 16(H)148cm/6.35.53.1inch. Camera base size: 109.5cm/3.93.7inch. Bracket size: 13.312.412.8(H)/5.24.95inch. Data cable length: 101.5cm/40inch. Type E (Battery NOT Included). Solar powered, support alarm detection and alarm push, automatic tracking action. WiFi connection, remote monitoring, multiple viewing. Equipped with a great HD image sensor and optical lens, great image and video quality. Great night vision range up to 65ft in darkness by powerful IR-LEDs. Powered by solar/battery, economical and environmentally friendly.
Smart PIR Human Detection: Be notified instantly when it detects unexpected visitors, and talk to them by 2.4G WiFi stronger connection than 5G WiFi (not support) outsides crossing walls. Infrared night vision effect, two-way voice function. Simple Installation: No electrical wiring jobs. It comes with built-in rechargeable batteries of large capacity and gets non-stop power by the solar panel.
IP66 waterproof, rainproof and dustproof, power-off video recording, memory card storage. Application:home entrance, yard door, fish pond, orchard, farm, mine, construction site and all places where it is not convenient for wiring. Power source: Solar / Lithium Battery. Built-in Battery Capacity: 10400mAh(2600mAh4). Detection Principle: PIR+ radar double induction.
Working Light at night: Infrared automatic switching. IR Led Power: 4W 1W4pcs.
Storage method: memory card storage. Power Source: Photoelectric dual-use, solar + built-in lithium battery power supply (external solar panel or power adapter optional). Standby Power Comsumption: 0.0025 0.003W. Working Power Consumption: Daytime=1.5W, Night=3.5W Daytime=2W, Night=4W.
Front size: 1599cm/5.93.53.5inch. Side size: 21.56.312.5cm/8.52.54.9inch. 1 x Solar Night Vision Camera (without battery). Main control chip processor: industrial grade embedded microcontroller GK7102C-A. Operating system: Embedded LINUX operating system.
Image coding standard: Smart H. Support motion tracking, snapshot function, video flip, image motion detection, microphone, speaker, remote playback, IR-CUT, WIFI, reset button. Monitoring image quality: 1920 1080/1280 720/640x360. Minimum illumination: 0.1LUX/F1.2. Video file size: 2.5-4.5GB/day (about 5 days for 64GB TF card recording). Recording method: manual recording, dynamic detection recording, timing recording, alarm recording. Alarm trigger: video push, speaker alarm, alarm recording. Code stream: dual code stream. Network protocol: support TCP/IP, ONVIF, etc. Transmission mode: intelligent P2P, streaming media forwarding. TF card: maximum support 128GB TF card. Applicable places: homes, shops, schools, supermarkets, factories and other places: flat, wall, hoisting. Working humidity: 10% to 90%. Rotation angle: horizontal: 355°; vertical: 90°. Packing size: 13.510.510. It can be monitored by "turning the head", the real eye-viewing six-way, left and right horizontal 355 ° up and down vertical 90 °. Support two-way voice calls, equipped with 87 high-definition lens, wider and clearer field of view.
Motion detection system, which automatically tracks and issues an alarm when a human figure appears, deeply determines human figure features, effectively filters out invalid alarms, and accurately alarms. Only for humanoid detection and recognition, pets walking around at home will not trigger an alarm. The device can be shared and guarded together, and the camera can be shared with relatives and friends, so that the whole family can view the status of the home in real time.
Infrared high-definition night vision function, the night vision distance can reach 10 meters, and the picture is clearer. 1.2MP FHD Image: Our solar outdoor camera with FHD 2MP resolution provides you with super clear images. The image is still clear when enlarged digitally by four times. Non-stop Solar Powered & IP66 Waterproof: The Security camera with a solar panel and built-in 7800mAh rechargeable battery, which provides 365 days non-stop power. Install it in a sunny place for truly continuous power supply. Two-Way Audio: Built-in microphone and speaker enable you to talk directly to others. Real-time intercom system helps you deal with some matters like parcels and also occasionally helps you scare off unwanted guests. PIR Motion Sensor & Instant Alerts: The solar outdoor camera has a sensitive PIR motion sensor.
Once motion is detected, it will be activated in 0.2 seconds, steadily record all human movements and send notifications to your smartphone (Android or iPhone). Multiple-User Sharing: Up to 12 users can view what the outdoor security camera is capturing. Infrared & Full Color Night Vision: 4 white LEDs and one IR sensor bring infrared and full color night vision. It provides clear night vision within a distance of 10m(32FT). Pan 355°, Tilt 90°: You can use app to make the camera rotate so as to view wider area.
Two Ways of Record: It supports 128G TF card storage and cloud storage. The first 30 days of using cloud storage is free of charge. PIR Sensor: 10 meters (32Ft) 100-degree detection range.
Battery: 7800mAh(Built-in), 3pcs 18650 Rechargeable Batteries. Battery Standby: Max 180 Days. Solar Panel: 3.7W solar panel with 3M(10FT) length. Cloud Storage: Support(30 days free; Need to subscribe and pay in App). Local Storage: Support Micro SD Card Max 128GB(NOT BUILT-IN).
Multiple People View: Support Share to max 12 families. Input/Output: Built-in Microphone & Speaker. App Hotspot: Support; Allow access without internet. App: iCSee App; Please kindly search this keyword on Google Play or iOS APP Store to download the APP. Work Time: Working 3 months based on 10 events triggered per day.
Product Size: Camera: 138(L)142(W)97(H)/MM; Solar panel:174(L)18(W)120(W)/MM. APP for the camera is iCSee. This item cannot support 24Hours continuous record, just records when the PIR activated, by motion or humanoid detection. This item cannot support PC live streaming, just configure by APP iCSee.
Two ways recording storage, by SD Card or Cloud storage. One month free trial for the cloud storage. You need to pay for the cloud service when the trail expires.
The camera just work with 2.4Ghz WiFi router, not support 5Ghz WiFi. 1.4MP FHD Image: Our outdoor camera with FHD 4MP resolution provides you with super clear images. IP66 Waterproof: The Security camera Install it in a sunny place for truly continuous power supply.
G, it works normally in rains. E and speaker enable you to talk directly to others.
Infrared & Full Color Night Vision: 6 white LEDs and 6 IR sensor bring infrared and full color night vision. Support: cloud storage/TF card storage.
Support: 24 hours a day/night. Material: 2-inch PTZ, ABS, white. LED minimum illumination: 0.1LUX/F1.2. Configuration: intelligent configuration, AP configuration, manual addition.
Lamp beads: 6 infrared lamps+6 white light lamps. With built-in rechargeable battery, this solar wireless security camera can work continuously for 365 days. IP66 weatherproof wireless camera outdoor can be used in some extreme weather conditions, temperatures range from--20? HD Quality, Automatic Night Vision? 2K full HD quality outdoor solar camera allows you to watch and record videos with more specific details from day to night on your smartphone.
Codnida security camera outdoor have infrared and color night vision, providing excellent night vision up to 32ft, you can even capture colorful video in the dark in full high definition. Never miss any important moment. PIR Motion Detection & 2 Way Talk?
Built-in human-ai technology reduce false alarms. Solar security camera has a noise-canceling microphone, you could clearly talk to anyone who walk close to your home via two-way audio. The alarm schedule function help set your solar outdoor security camera to detect the motion at the time period you want. Free TF Storage & Device Sharing?
Outdoor solar security camera can save images and videos in a micro SD card(Note: Max 128 GB, NOT INCLUDED). Never worry about your SD card will be fulled, it will automatically delete the oldest recordings. With device sharing function, you could use your wireless camera with your families. Note: The account you shared should have registered on "CloudEdge". Hassle free Service & What's in Package? You will get 1Wi-Fi security camera, 1solar panel, 1mounting bracket, 1screw package, 1micro USB cable(Not included adapter). No wiring required, battery&solar powered. Intelligent quick configuration, AP hotspot addition. Two 18650 batteries are built into the rechargeable solar panel, with a standby time of 6 months. IP67 is dustproof and rainproof, fearless of wind and rain, and can be used indoors and outdoors.
Power supply mode: battery powered, 2 2600mah=5200mah. Support: Remote monitoring of various mobile phones (IOS, Android).
Wireless network: 2.4GHz IEEE 802.11b/g/n. 1 x camera with bracket. 1 x solar panel with 2 batteries. Infrared & Full Color Night Vision: 10 white LEDs and 10 IR sensor bring infrared and full color night vision. Lamp beads: 10 infrared lamps+10 white light lamps. This item is in the category "Consumer Electronics\Surveillance & Smart Home Electronics\Home Surveillance\Security Cameras". The seller is "xksportlife" and is located in this country: US. This item can be shipped to United States.
Package Include: Type B - White
Detection Angle: 120°
Display Technology: LCD
Power Source: Battery, Solar
Custom Bundle: No
Year Manufactured: 2023
Alarm Push: Mobile Push
Solar Panel power: 8W
Manufacturer Warranty: 1 Year
Item Height: 9 in
Features: Battery, Bluetooth, Bracket, Digital, Energy Saving, IP Intercom, Motion/PIR Activated, Night Light, Night Vision, Outdoor/Weatherproof, Pan-Tilt Zoom, Rechargeable, Sleep Mode, Wall Mounted, Waterproof, Wi-Fi
Storage Capacity: 128GB(Not included TF card))
Item Width: 3.5 in
Surveillance Technology: PIR
Operating Temperature: -22°F to 140°F (-30°C to 60°C)
Number of Cameras Included: 1
Battery Included: Yes
Operating Range: 30m
Color Mode: Color Day, B&W Night
Detection mode: PIR + radar dual induction detection
Vertical Rotation Angle: 120°
Brand: Unbranded
Type: Surveillance Camera
Battery Capacity: 6Pcs of 18650 batteries
Maximum Resolution: 1080p (FHD)
Model: SmartCam
Connectivity: Wi-Fi, Wireless
Smart Home Protocol: Infrared, Wi-Fi
Location: Outdoor & Indoor