Wifi Wireless Home Security Camera System Outdoor Audio 8CH NVR HD 3MP CCTV Kit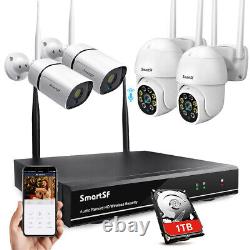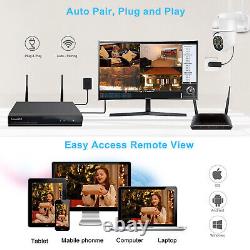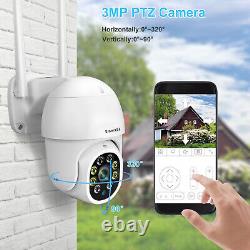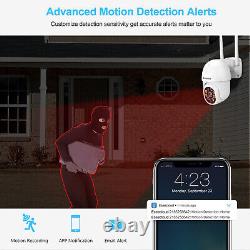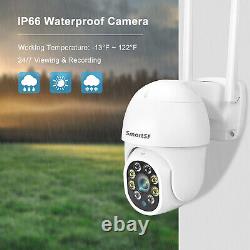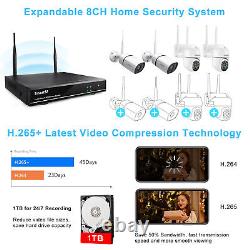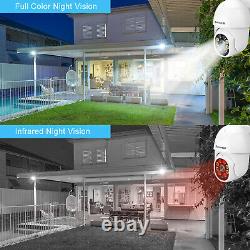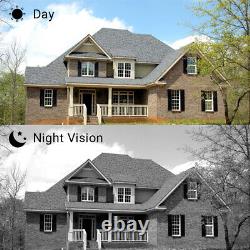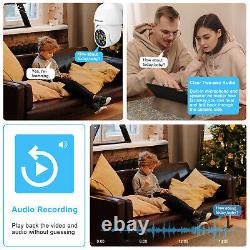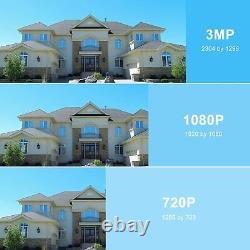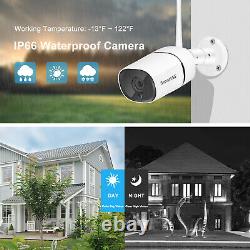 Wireless 8CH 4PCS 3MP Two-Way Audio Security PTZ 5X Digital Zoom Outdoor & Bullet WIFI IP Cameras Waterproof CCTV kit. SmartSF 8CH 3MP Outdoor Wireless Camera System 23MP Pan Tilt Zoom Cameras and 2 3MP Bullet Cameras with Two-Way Audio. The Wireless System Doesn't Mean You can Use the System without Any Cables. Power Supply still Needed to Power on the Cameras and NVR (We Don't Take Charge of Installation). Metal buildings and Cement wall will heavily block the wifi signal between the cameras and NVR (Not recommended to exceed more than 2 walls) And you can use wifi repeater to strengthen the signal. Two-Way Audio function is customized, you can turn on/off manually. Only supports 2.4GHz WiFi! Keep the House Safe, Suitable for All Occasions. Strong Anti-Interference and 64ft Night Vision, 2304 x 1296 Image Sensor Makes More Clear and Stunning Picture and Video. Built-in Microphone, Receive clearer audio. The built-in microphone can capture very clear audio. The audio range is up to 19.2 feet. The NVR has an HDMI audio port, which can output audio to a high-definition TV or a monitor with speakers and the audio can be played together with the video on mobile devices. The SmartSF wireless camera system support 78° wide-angle lens with 320° horizontal & 90° vertically rotation, 5x Digital Zoom.
As long as the camera is installed, you can control the camera by sliding left and right through Pan tilt control, and you can see where you want to see. Let you remote your house zero blind spots. 3MP Full HD Resolution Delivers Crisp and Vibrant Images. 20481536 Resolution High Definition shows every little detail. Auto Pair, Plug and Paly.
The camera and NVR have been matched at the time of production. All you have to do is to plug in the antenna and power adapter. IP66 Weatherproof & Night Vision.
Camera metal shell material to resist extreme heat and cold, and is more durable. The camera's night vision up to 100ft with the powerful IR lights, no matter where you live, the weather won't interfere with your camera's performance.
Customize your own detection plan and zone for each camera exactly to your needs. All in one wireless Camera system.
Image Sensor: 1/2.7 3 MP CMOS. Lens: 3.6mm, 3 Megapixels lens.
The wireless camera system can add 4 extra wireless camera, in addition to adding the same camera, you can also add other SmartSF wireless stand-alone camera from our store. Expenable 3MP Wireless Security Camera System. This is an 8-channel security system. Based on the original 4 cameras, you can add up to 4 cameras.
23MP PTZ camera, 23MP IP camera. 1 x 1TB Hard Drive(Preinstalled in NVR). 1 x 3.2 Feet Power Cable for NVR. 4 x 9.8 Feet Power Cables for Security Cameras. 265 Wireless Network Video Recorder.
1 x 9.8Ft 5DB Extension Antenna(Enhanced WIFI signal for camera). 1 x 3.2 Feet HDMI cable.
1 x 3.2 Feet Network Cable. Free gifts: 1pcs Antenna Booster.