Wireless Home Security Camera IP System 4MP Smart Wifi Cam Solar Battery Powered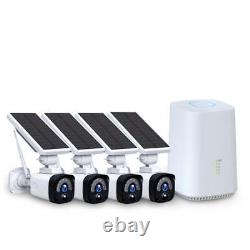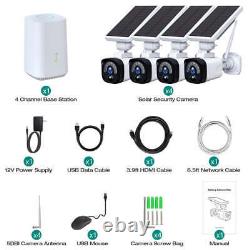 Built-in 6400mAh rechargeable battery, long standby and allows to charged on a 5V power adaptor. It also can use solar panel to get running in 365 days with non-stop.
4MP FHD Video & 5X Digital Zoom. This security camera has a resolution of 4MP (2560 x 1440). It provides wider of viewing angle than 1080p, the quality in pictures is 2 times clearer.
With two fingers touch, you can enjoy the 5X Digital zoom feature to get the picture in more details. The base station can be used as an NVR, and there is a 100% wireless connection between the camera and the base station. The base station can be plugged into a network cable or connected to wifi using an HDMI external display.
You also can watch the videos on your display device to achieve high-definition visual effects. With the built-in microphone and speaker, our security camera allow you communicate with your elders, children, nanny and pets, even if you are thousands of miles away.
You can also verbally warn any uninvited people. When anyone triggers built-in PIR motion sensors, it will send you instant app push notifications with a snapshot, be able to see what is happening. With smart AI human detection technology, it can distinguish between people and objects. Get Remote Access Anywhere Anytime. Connecting the app to the camera is easy and fast!
Just follow the steps on the app, scan the QR code, wait 30 seconds, and your connected. With built-in 6 infrared LED lights, the solar cameras automatically switches to black and white night vision images when it detects that the light is dim.
The camera has 120° monitoring angle and night vision range of 32ft, which can recording in the dark without lights. Two Storage Method---SD Card/Encrypted Cloud Storage. The solar security camera system can also support cloud storage (this is not mandatory).
We provide 30 days free of cloud storage.