Wireless Security Camera System 8CH NVR 4PCS Outdoor WiFi Surveillance PTZ Home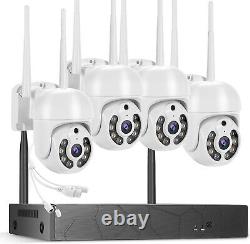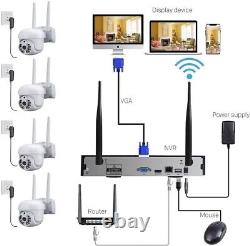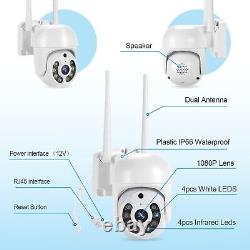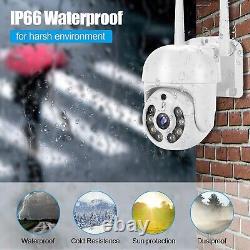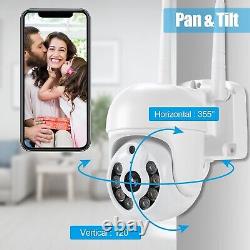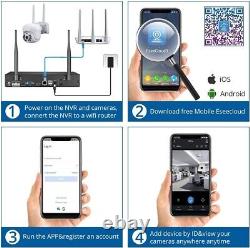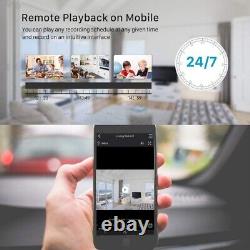 Wireless Security Camera System 8CH NVR 4PCS Outdoor WiFi Surveillance PTZ Home Camera with Night Vision, Weatherproof, Motion Alert, Remote Access, No Hard Disk [Expandable 8CH, 2K]. The power cord of each camera is 10ft long.
3MP High Definition and 50ft Night Vision -This outdoor wifi ptz camera with 3MP resolution offers you crystal clear image quality. All video captured by this camera will be presented to you via stunning videos.
This camera also support full color night vision. High-strength plastic housing enables the camera to withstand rain, snow, wind, and temperatures ranging from -22°F--140°F. And with microphone, you can listen what happen outsides. Audio range up to 18ft. Customize your own detection plan and zone for each camera, you will get extra peace of mind by receiving instant alerts and get notified of what's happening.
View from anywhere anytime - The EseeCloud App lets you see all of your cameras in one place once connect the NVR to router. Check in on your home or business wherever you have an internet connection. Easy Remote Viewing and Video Playback, You can watch live or playback video records on your mobile app/ PC Client Software remotely or NVR monitor locally. HDD Storage and 24/7 Reliable AUDIO Recording - It should be noted that this system does not come with a hard drive. It will work without one but you won't be able to record anything until you get one. If you install a 1TB HDD, It will support nearly 30-day Loop-recording. The NVR recorder support up to 8 cameras, you can add 4 more cameras; has the option to expand storage capacity to 8TB.
Alptop Expandable 8 Channel Wireless Security Camera System. Image Sensor: 1/2.7 3 MP CMOS; Resolution 23041296;3.6mm lens.
8 Channel NVR, support up to 8 cameras. Wireless WiFi / Lan Cable connection between NVR and IP Cameras.
IP66 Waterproof, working temperature - 25° C +50° C (-13°F-122° F). IR-Cut Array LED Lights: up to 65ft Night Vision Distance. Motion detection and Buzzer, push alert messages to mobile phones in real time.
265+ encode: save your HDD storage space. Built-in microphone and speaker, support two way audio. Hard Drive Disk is not Included.
The NVR works with 2.4Ghz WiFi ONLY, 5GHz WiFi is not supported. Wireless means wireless Internet connection, it also need to be plugged in the power supply/outlet for 24/7 recording. Please search ASIN B09R4124G7 if you need more camera.
Plug & Play and Easy Remote Access Anywhere Anytime. After connecting the NVR and cameras to power, connect a monitor to the NVR through the HDMI or VGA port (HDMI and VGA cable are not included) and wait for 1-2 minutes, then the live pictures from the cameras will be displayed on the monitor.
Connect the mouse to start operating the NVR system. After you install the Eseecloud app, you can view live videos and receive push notifications. You will never miss any moment, no matter where you are.
Rapid positioning and Panoranic viewing. The ability to control the cameras through the app is great and it allows you to move it about half an inch for each swipe that you do. IP66 Weatherproof Outdoor IP Camera. IP66 professional outdoor residential security camera withstands temperature ranges from -10°F to 122°F, which means this motion security camera is strong enough to work under rough weather like storm and snowy weather. IP66 level weatherproof design leaves you free of worrying about rain or dust in outdoor condition.
With 4 illumination LED and 4 infrared LED, the camera can record colourful vivid images even in real dark. The color night vision security cameras are better at providing full-color images. When motion detection is triggered, the floodlights will light up and alert you of any suspicious activity. Human detection assists with preventing false alarms by sensing human movement. This helps cut down false alarms which may be caused by changes in lighting conditions, rain, snow, insects, etc.
Real Time Motion Alerts will be pushed to your smartphone via App. This ptz camera built-in 38dB microphone & speaker and adopt anti noise technology, the fluent sound allows you to comfort your loved one. You can communicate with each other clearly whenever you want. Video With Smart Playback and AI Playback.
Smart playback available with customizable searching area, You will save lots of checking playback time through skip unimportant videos. With AI playback, then you can playback the humanity detection video separately.