ZOSI 8CH/16CH 4K NVR 5MP/8MP Home POE IP Security Camera System AI Face Detect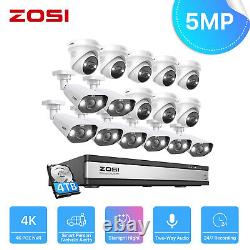 This is a v ariation listing. NVR has 8 channel and 16 channel for option.
Bullet or dome camera, 4/8/12/16. Bullet or dome camera for option. Also, the hard drive has 2TB and 4TB for option. Please choose the right one according to your needs. The default setting of the NVR is 1024 x 768. If the monitor resolution is lower than 4K, then the system will not show the 4K resolution. 5 Megapixel super high definition video, 2.5 x better than 1080P Full HD, super high definition video to see every detail and protect your premises.
If you want to get the 5MP resolution, you need to connect a 2K or 4K TV monitor. Record everything with sharper details with the high Pixel count and be able to digitally zoom into far away objects without losing any quality. This Ultra HD 4K/5MP CMOS Image Sensor allows the camera to capture more light, and turn on HDR mode to deliver crisp detail even in backlit environments for real-world visuals.
Capture more light and reveal vivid details even in very low light conditions with an advanced starlight sensor. When people walk by, the camera will automatically turn on full-color night vision. Black and white night vision. The AI-based system can detect people or vehicle from other objects, thus you will only get notified about things that matter. See, Here and Talk over Camera. Not only watch ultra-clear live video, you can also hear and talk directly to anyone who approaches via 2-way audio. Expand Up to 16-Channel System. The 4K 8 ports NVR can be upgraded to 16CH expandabled with a PoE switch connected. Smart AI Motion Detection and Light Alarm. Reduce annoying false positives with intelligent AI people detection. 100% video quality preservation over long distance transmission. Video feeds are encrypted before transmission, making data interception difficult.
A single ethernet cable transmit power, video and audio. You can customize the detection area.
When a stranger breaks into the area, the system will work immediately to warn the intruder and reduce false positives. The system supports four playback modes: Fast playback, Schedule playback, Motion detection playback, Humanoid detection playback. You can choose any playback mode to save your time and not miss any moment. ZOSI NVR offers 4 kinds recording modes to meet your needs: Continuous Record ; Scheduled Record; Motion Detect Record; Recycle Record. You can customize each camera with different recording modes, which allows you to save space on the hard drive.
This 4K Camera security system can customize the warning mode, three alarm modes: light alarm, sound warning, sound and light warning together. 265+ coding compresses video file sizes without quality degradation, thus saving lots of storage space for longer recording time and a better viewing experience. Do more support 4 cameras to play back at the same time, you can also adjust the viewing speed, support 1/2x / 2x /4x / 8x / 16x / 32x speed playback, adjust according to your preferences.
Available languages: French, Russian, English, Italian, Portuguese, Spanish, German, Japanese, etc. Allows you to use the system conveniently. Max Support 100 Meters Cables Transmission. The distance greatly increases the convenience of home installation, and it is installed in the place where you want to monitor the most.
View live feed, replay footage, and customize settings from your mobile devices, whenever and wherever, with an all-in-one ZOSI Smart App/AVSS Client. Built for Indoors & Outdoors. The protection level of this camera is IP66, and the shell is made of metal, which can effectively block sand, dust and wind and rain erosion. Suitable for indoor and outdoor installation.
Question 1: Can I add more cameras to this system? You can add more (only ZOSI) 8MP or 5MP POE bullet or dome cameras. But the total number of cameras connected to the NVR should not exceed 8 or 16 depends on your NVR channel. Question 2: How to get the 4K 8.0MP resolution.
(1) Please make sure that your TV monitor is 4K or better than 4K resolution, and connect the NVR to your TV monitor. (2) Setup the system, and go to Main Menu- Set up-Basic to change the "Video Output" to "3840 2160" manually. Question 3: Why can't I hear audio when watching live on NVR?
The NVR can transmit audio only when the monitor/TV is connected via HDMI cable, otherwise the monitor/TV will have no sound output. The quality of the image is related to where you install this camera. Better to install cameras in a position with a wide field of vision, and the best outdoor installation height is 4-8 meters. The direction of the lens should avoid the angle facing the light source as much as possible. The installation environment should avoid a high dust environment as much as possible.